Meet the Team...
Come on in and say hi.
Three artists and one studio manager.
Want to know more?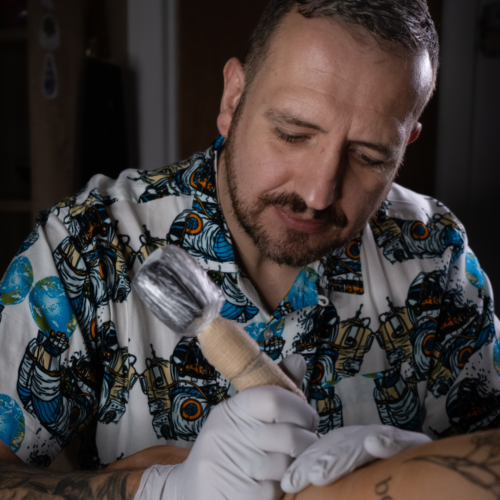 Charles Astbury
Artist
Lewis Sherlock
Artist
Sophie Burke
Artist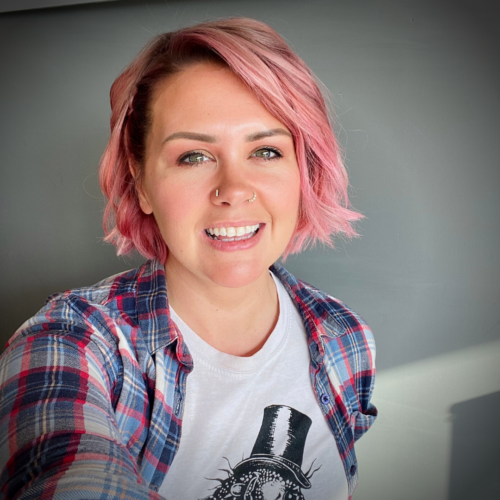 Joanne Sherlock
Studio Owner/Manager
Charles Astbury
Blackwork and Old School
Likes
Horror movies, 80s pop, gardening.
Dislikes
Early mornings, flat pack furniture, people who run on Christmas Day.
A pencil artist from school age, Charles (we all call him Chaz) has always been drawn to the skills needed for hyper realism. Inspired by his vast movie knowledge his art background prior to tattooing was movie portraits in pencil.
A commissioned portrait/pet artist in his own right whilst working in other fields, Chaz was also a stone mason for many years before committing to art full time.
Choosing tattooing as his preferred art medium around 2016, Chaz completed his apprenticeship and worked in 2 other studios for 5 years prior to joining the team at Nomad Ink. A skilled and creative artist, Chaz has particularly beautiful and refined linework and detail work. He has also expanded his art mediums to include digital art.
Now established, Chaz has expended his portfolio to include the traditional Old School and blackwork artwork he loves, now his preferred styles. He likes to create his tattoo designs with with a movie or cult classic twist. Chaz is at his best when working with creative and quirky subject matter, particularly involving animals or a nod to 80s/90s pop culture.
View Gallery
Lewis Sherlock
Portraits, Realism.
Likes
Photography, CGI, camping.
Dislikes
Musicals, big game hunters, cheap shoes.
After establishing himself as an airbrush artist as well as commissioning in pencil, watercolour and oils, it was a chance discussion in 2014 while working as an airbrush artist that led Lewis to pursue a career in tattooing.
Drawn to realism in all art mediums, Lewis wanted a better understanding of how light affects an image and it was around this time he also began studying photography. Something he did full time whilst taking 2 years out to travel.
These mediums, experience and a meticulous nature combine to underpin his depth of knowledge in realism art.
Now an experienced and established portrait tattoo artist Lewis likes to feature hyper-realism detail and surreal elements in his work and creates bespoke tattoos for his clients both in the UK and beyond. Enjoying tattooing many of his own designs, tattoo lovers come to Lewis if they are looking for portraits/realism that tell a story. With the highest quality soft shades and details, created in a way that ensures they stand the test of time.
View Gallery
Sophie Burke
Illustration, Full Colour, Florals
Likes
Rum, cake, afternoon naps.
Dislikes
Avocado, early mornings, people who don't know how to queue.
Sophie came to Nomad Ink looking for an apprenticeship in tattooing having already trained and worked in illustration and graphic design. An art graduate from Loughborough University, Sophie's work has been exhibited in various UK galleries and she is regularly commissioned as both an illustrator and graphic designer. She has developed and widely sold her unique style in illustrative portraiture and has settled on tattooing as the arena best suited to her quirky, often dark and provocative art.
Sophie's art and tattoo style is distinctive and inspired by nature and the human form. That said, Sophie frequently calls on her love of 80's cult classics and fantasy movie culture when putting together new designs. Drawn to the emotive, there's a real 'strength in femininity' vibe to her art and tattoos; often using delicate floral elements to create unique pieces for her customers.
View Gallery
Joanne Sherlock
Likes
Travel, early mornings, writing.
Dislikes
Wearing shoes, wet sleeves, wasps.
Recent years spent working in the tattoo industry, Jo's background is in early years education and business development. An early years education graduate of Liverpool Hope University, Jo has worked as a ghost writer and copy editor. As well as writing forest school/STEM curriculum copy for clients worldwide.
A lover of tattoos and provocative imagery Jo is now turning her business development skills (and ongoing Masters in Digital Marketing) to a creative industry full time. As the owner of Nomad Ink she manages all aspects of the studio that aren't drawing or tattooing. A recurring comment in customer feedback is our attentive and responsive customer service and this is something she strives for with every communication opportunity. This is often lacking from people's experiences with tattoo artists/studios in general. It's Jo you'll speak to when you get in touch so go for it, come say hi.
View Gallery
What our customers say...
"My tattoo is fantastic. It is exactly the piece I have always wanted…Both Jo and Lewis make you feel so welcome and the whole experience is just so professional. I couldn't recommend Nomad Ink enough."
Andy Christian
30/01/2021
"I would 100% recommend Nomad...I showed them a tattoo and they have managed to transform it into something incredible the service that I got was amazing. I was so relaxed on getting the tattoo. I will be definitely going there again...I can't thank them enough."
"I have had majority of my many many tattoos done by Lewis at Nomad Ink. From start to finish, the customer experience is fantastic, every time. No matter if you're a brand new or a returning customer, the service you receive is second to none... Lewis was able to take my ideas and produce art that was beyond anything I could have imagined."
"Absolutely top service before, during and after from all at Nomad Ink…Lewis is a top artist and a real professional about his work."
"I rang today to make enquiries and was greeted by such a helpful friendly voice...We had an idea what me & my Mum wanted and Chaz sketched it out for us and with a few little tweaks we came to a design that we loved... was spotlessly clean. I wouldn't hesitate to go there again & I would highly recommend them to family and friends."
"Would highly recommend to anyone to go here for a tattoo. I seen Sophie who was amazing at taking my ideas and bringing them to life. The shop is really relaxing and a not intimidating at all like some tattoo shops can be. Will 100% be going back here for my next tattoo!"
"Brilliant service and excellent experience. I was so pleased that Nomad Ink fitted me in for a tattoo whilst I was visiting family. I won't be getting my tattoo's from anywhere else now. I will travel 500 miles again for Sophie to do my next one, she was amazing."
"I have many tattoos from Nomad Ink, my latest ones being from their new artist Chaz, he's an incredible artist. He's so friendly and professional. They all have their own rooms which is why I chose Nomad in the first place, I just sit back and relax watching a few films. You feel in such safe hands."
Michelle Byrne
26/01/2022
"Lewis is an incredible artist and Jo has been fantastic in answering all my questions, sorting bookings, recommending best aftercare etc."
"Brilliant work from the guys at Nomad, Done my tattoo exactly how I asked to be done and offered a variety of different ideas to fit my needs. The owner also keeps in contact afterwards to make sure you are satisfied and to make sure you are looking after your new ink. Definitely going again. Spot on guys!!"
"I'm so glad I have found Nomad ink! Excellent customer service from Jo during enquiry to tattoo, friendly and great at putting nervous customers at ease. Covid regulations all in place and Sophie is a fabulous artist I love my tattoo. Thank you."
Suzanne Griffiths
01/01/2021
Nomad Ink
140 Seaview Road
Wallasey
CH45 4PE